Goth Food Challenge, Part 1: Set Up
I had this idea for a food challenge around Christmas. The idea is to eat dark colored food for a week, or at least for one meal a day for a whole week. I got to thinking about it and figured it could be done, but I would also have to allow myself to eat some meat. I'm on a restricted paleo diet which crosses a bunch of dark tubers and legumes off of the list for me.
Here is the color scale: Dark Red to Black to Dark Purple
Bright red and bright purple don't count!
Fruits and vegetables in this color range tend to have higher antioxidant content, have anti-aging properties, lower bad cholesterol, fight inflammation, lower blood pressure, and help prevent arthritis. Black and dark grains tend to be higher in antioxidants. Lean meats tend to have a high protein to low fat ratio and it's also a bit lower on calories.
I'm not listing any processed foods or baked goods because I've stopped eating those things. I had to google grains and legumes because I don't eat those. If you want to make a black cake or something, do it.
Vegetables:
Purple Potato

Purple Sweet Potato

Purple Cauliflower

Garnet or Merlot Romaine Lettuce

Spanish Black Radish

Black Magic Kale

Black Nebula Carrots

Eggplant

Purple Cabbage

Purple Orach

Beets

Purple Onions
Fruits:
Black Beauty Tomato

Black Cherry Tomato

Black Krim Tomato

Purple Tomatillos

Purple Peppers

Any berry that is black, purple, or dark red

Black Plums

Black Grapes

Black Mission Figs

Black Cherries

Bing Cherries

Pomegranate

Blood Orange
Grains & Legumes:
Black, purple, or dark red Corn

Black Sesame

Black Beans

Dark Kidney Beans

Purple Fava Beans

Red Bean

Adzuki Bean

Black Rice

Wild Rice

Black Quinoa

Black Lentils
Meats:
For this challenge, we will just stick with lean meats.
Black Cod (right, cause of the name?)

Fish & Seafood

Poultry

Eggs

Wild Game (i.e. deer, moose, caribou, bear, etc)
Part of this challenge is to see what you can come up with to showcase the color range. The majority of your food, if not all of it, should be dark and gothic. Should we hashtag this? #GothFoodChallenge
Getting Started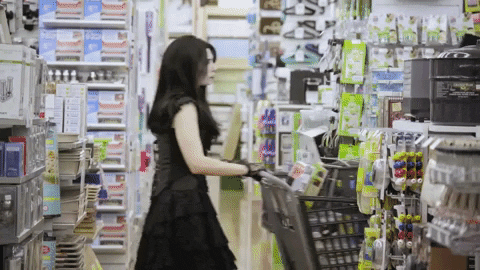 At this point you've already read what the challenge is focused on and some suggested fruits, vegetables, grains and legumes, and meats. Some would say that knowing in basics of the challenge is step one.
Next, you'll want to visit your local grocery, farmers market, specialized grocery, etc to see what your selection is. If you see something that is not on the list you just need to ask yourself: Is this on the color range? Dark red to black to dark purple. Put those bright red beefsteak and roma tomatoes back! Not on the list!
After this, you'll need to make a meal plan for the week. Only after this step can you start shopping and start the challenge!