Beetlejuice is one of my favorite films and as I have been going through various seed catalogs, I found these 13 plants that could be used to give your garden a Beetlejuice theme. I chose the following selection for various reasons and you will find: ornamentals and flowers. If there is a plant or two that you think I should have included, please tell me in the comments!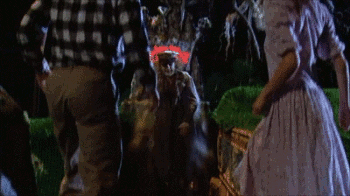 1. Pink Cloud Muhly Grass
This is an ornamental grass with a very ethereal look, similar to what you might imagine from the Neitherworld. If you have a garden sitting area, this would make an excellent natural border to create a more private setting. Found at American Meadows, $10.99 for a 3.5" pot.
2. Black Mondo Grass
This is a black wide-blade ornamental grass. Since we're so used to seeing green foliage, this is sure to be a lovely stunner in the garden. Found at American Meadow - $13.49 for a 3" pot.
3. Begonia Rex China Curl
If you're looking for something kind of normal, but also kind of weird, this is it. This leafy begonia features a white and dark purple spiky swirled leaf. Found at Logees, $14.95 for 2.5" pot.
4. Gardenia Double Mint
Doesn't this just look like a plain white flower? Gardenias are super fragrant and are very common in funeral arrangements - which screams "Lydia" to me. This particular gardenia is a double flower so it's a little extra. Found at Logees, $19.99 for 4" pot.
5. Golden Zebra Iris
Who is that blonde in the stripes...just the ghost with the most! It's kind of hard to find super striped flowers, but this one seems to nail it. Iris are great and, if you're in the right zones, they come back every year. Found at Brecks, $13.99 for 1 plant.
6. Odessa Calla Lilies
You have probably seen these in classic white. This is the first time I've come across calla lilies in black. It could be striking to have both black and white next to each other. Found at Brecks, $15.99 per plant.
7. Amazing Grey Poppy
These are a new 2020 seed. They are a purple-grey-white melange. I find them to be very ethereal. Found these at Whole Seed Catalog, $3.00 for seed packet.
8. Orchid Cream Nasturtiums
To me this looks like someone bled on a white nasturtium and I LOVE IT! I literally just received a packet of these seeds for the summer. Found at Whole Seed Catalog, $4 for seed packet.
9. Salvia, Flare
These stalk flowers remind me of Lydia's wedding dress. Salvia is a great flower that keeps blooming all summer. Found at Burpee, $5.19 per packet.
10. Dahlia, Sherwood Peach
Dahlia sounds like Delia and these remind me of Delia Deetz. Dahlias are great for bouquets and for still life art. You might think that this is just a peach flower, but there are intricate color details. Found at Burpee, $8.95 per tuber.
11. Petunia, Black Cat
Fans of the cartoon will know who this is for - Percy the cat. This is a velvety black petunia. Found at Burpee, $22.95 for 4 plants.
12. Desert Rose, Immortality 2
I chose this because of the name and because it's a nice pop of color. Found at Logees, $34.95 for 4" pot.
13. Crypthanus, Absolute Zero
This is a purely striped plant with green/near black stripes and silver/white stripes. Needless to say, this reminds me of Beetlejuice's suit. Found at Logees, $14.95 for 4" pot.